Add a unique touch to your home with this modern Moroccan pendant lighting desing. This contemporary piece features traditional designs to create a beautiful statement piece for your living space.
Luxurious Moroccan Pendant lighting
This Moroccan pendant light is used as decorative accents in homes. it comes in various sizes and can be hung over a dining table or in the bedroom, etc. These lights are made out of brass
Choose a Size That Suits You.
There are several different sizes of this Moroccan pendant available, If you're not sure what type of light will work best for your space, take some measurements before making a purchase. This will help ensure that you choose the right size.
The fixture creates a pattern of shadows on the walls.
This Modern Moroccan Ceiling Lamp is an oval-shaped pendant light, with its simple sculptural shape and its pierced shade casting brilliant shadows onto the ceiling and onto the space around it while creating a focused light at the base.
Elevate any room with a modern twist on the classic Moroccan design with this pendant light. Crafted from high-quality materials, it will add an eye-catching touch to your décor.
The fixture is made from solid brass & durable.
This Moroccan pendant light fixture is a good choice for a modern home because it adds a touch of elegance to any space. It's also a good option for those who prefer a more traditional design.

The fixture is made of solid brass material. It is very sturdy and durable. It will last for years without fading or losing its shine.
This Moroccan pendant light is a real eye-catcher in your interior!
Can be mounted on a sloped ceiling. The cord will automatically adjust and hang straight down.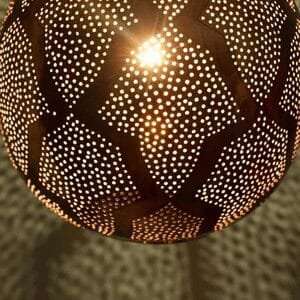 Combine the Moroccan pendant with a wooden dining table or a sturdy coffee table
t provides an abundant, yet diffused light making it a perfect addition to dining and living spaces